Join Us: Special Screenings of THE VIETNAM WAR
WITF invites you to special community screenings of THE VIETNAM WAR–a landmark documentary film series by Ken Burns & Lynn Novick. Join us August 16 at the Willow Valley Cultural Center Theater, on August 29 at the Liberty USO of Fort Indiantown Gap in Annville, and on September 12 at the U.S. Army Heritage and Education Center in Carlisle. All screenings begin at 6pm and are free and open to the public.
Ken Burns and Lynn Novick's ten-part, 18-hour documentary series, THE VIETNAM WAR, tells the epic story of one of the most consequential, divisive, and controversial events in American history as it has never before been told on film. Visceral and immersive, the series explores the human dimensions of the war through revelatory testimony of nearly 80 witnesses from all sides—Americans who fought in the war and others who opposed it, as well as combatants and civilians from North and South Vietnam. The exclusive sneak preview highlights service-people, the Vietnamese perspective, media and journalism, leadership, civilian life, the anti-war movement, veterans coming home, and more.
After the screening, share your story and take part in a panel discussion with local experts.
Supported by Willow Valley Communities and the Harrisburg office of the law firm of Saul Ewing LLP.
Register to attend by choosing the location and date you prefer below:
FORT INDIANTOWN GAP | Aug 29 (Preview of Ken Burns documentary)
US ARMY HERITAGE AND EDUCATION CENTER | Sept 12 (Preview of Ken Burns documentary)
WITF PUBLIC MEDIA CENTER | Sept 13 (Preview of WITF Stories documentary)
---
Save the Date
THE VIETNAM WAR is a ten-part, 18-hour documentary film series directed by Ken Burns and Lynn Novick that will air on WITF in September 2017. (television premier date Sunday , September 17, 2017)
In an immersive 360-degree narrative, Burns and Novick tell the epic story of the Vietnam War as it has never before been told on film. THE VIETNAM WAR features testimony from nearly 100 witnesses, including many Americans who fought in the war and others who opposed it, as well as Vietnamese combatants and civilians from both the winning and losing sides.
It includes rarely seen, digitally re-mastered archival footage from sources around the globe, photographs taken by some of the most celebrated photojournalists of the 20th Century, historic television broadcasts, evocative home movies, revelatory audio recordings from inside the Kennedy, Johnson and Nixon administrations and more than 100 iconic musical recordings by many of the greatest artists of the era.
The film will be accompanied by an unprecedented outreach and public engagement program, providing opportunities for communities to participate in a national conversation about what happened during the Vietnam War, what went wrong and what lessons are to be learned.
Read a Q & A with Filmmakers of "THE VIETNAM WAR"
WITF will hold three public events where the public can attend a preview of the documentary paired with a panel discussion about the Vietnam War.
Dates/Locations:
Wednesday, August 16, 2017 at Willow Valley Cultural Center Theater, 900 Willow Valley Lakes Drive, Willow Street, PA 17584
Tuesday, August 29, 2017 at Fort Indiantown Gap, Liberty USO, corner of Clement Ave. and Scheld Ave., Annville, PA 17003
Tuesday, September 12, 2017 at U.S. Army Heritage and Education Center, 950 Soldiers Dr, Carlisle, PA 17013
More detail and registration forms will be available closer to the event dates.
Send questions to: vietnam@witf.org
WITF's Vietnam War Stories Project is supported by Willow Valley Communities.
---
I wish to advise that I will be awarding, 50 years after the event, the Bronze Star Medal with V (for Valor) to Vietnam veteran, Army Sergeant Edward L. Hill, at 1300 hrs, 11 August 2017 at the Hershey VFW Post 3502 (883 Old Chocolate Ave).
The act of bravery was performed on 19Nov67. However, before the BSM with V could be officially awarded, then-PFC was seriously wounded and medevaced out of country.
– COL Thomas C. Fosnacht, USA, Ret
---
Dauphin County seeks photos of four Vietnam veterans to memorialize their service and sacrifice on the Wall of Faces
HARRISBURG, PA (April 20, 2017) – Dauphin County Commissioners Jeff Haste, Mike Pries and George P. Hartwick, III and the county's Veterans Affairs office are seeking photos of four veterans from Dauphin County who were killed in action during the Vietnam War so that their legacies can be preserved on the Wall of Faces. A partnership between the state Department of Military and Veterans Affairs and the Vietnam Veterans Memorial Fund, the digital Wall of Faces features over 3,100 photos and names of service members from Pennsylvania to remember those who sacrificed all in Vietnam.
"Supporting and thanking our veterans who have fought hard for our freedom is one of our top priorities," said Pries, who has oversight of the county's Veterans Affairs office.  "We have been working with local historical societies and veterans' organizations to find photos of Vietnam veterans for the Wall of Faces and have made a lot of progress.  But we need the public's help with locating photos of four more service members to ensure ALL Vietnam veterans from Dauphin County are recognized and remembered."
Those veterans are as follows:
Carl M. Morris, of Harrisburg, whose date of birth was May 18, 1949 and served in the Marine Corps
Owen F. Neumyer, of Harrisburg, whose date of birth was Dec. 3, 1930 and served in the Marine Corps
John J. Paluscio, of Harrisburg, whose date of birth was March 23, 1944 and served in the Army
Billy A. Thompson, of Harrisburg, whose date of birth was Jan. 16, 1932 and served in the Army
County veterans affairs offices across the state have been assisting with this project and locating photos of Vietnam veterans in their communities.
"Please help us honor our hometown heroes," said Chairman Jeff Haste. "This project helps to preserve their memories and share their stories for generations to come."
Since the Wall of Faces was launched in October of 2009, the project has located photos of more than 45,000 of the names inscribed on the Washington, D.C.-based Vietnam Memorial.
"We ask for your help with honoring these veterans and ensuring their faces are never forgotten," said Hartwick.
For more information about services for veterans, please contact Dauphin County Veterans Affairs at 717-780-6356 or visit www.DauphinCounty.org. To learn more about the Wall of Faces, visit www.dmva.pa.gov.
---
VETERANS' EXPO & JOB FAIRS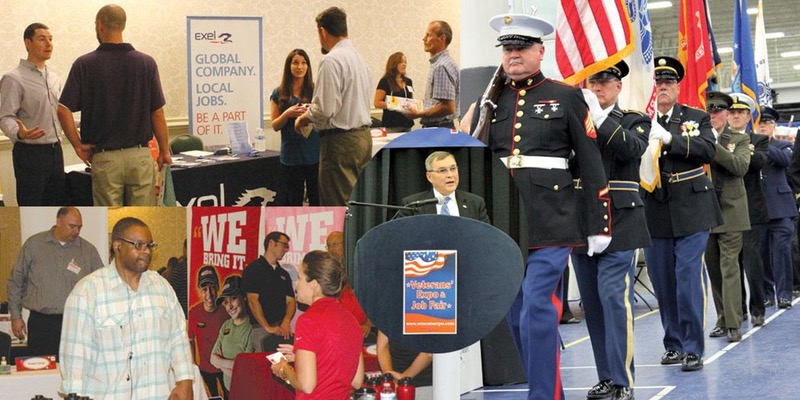 The Expo brings federal, state, and local agencies together with area businesses to provide information and resources to current and veteran service members and their families about: Veterans Benefits & Services • Medical/Nonmedical Resources • Products and Services Available • Support/Assistance Programs • Education/Training Services
The Job Fair brings veterans, active military, and spouses who need jobs together with employers who can benefit from this rich source of talent to aid their organizations. Attendees will find: Employers • Job Counseling • Roundtable Discussions • Resume Writing Assistance
Who attends?– Proactive men and women from all branches of service and engagement and their families attend the Veterans' Expo & Job Fair to learn more about available resources, benefits, products, and services that can help in their daily lives; educational opportunities; and employment prospects. It's a great way to make new contacts.
Why attend the Veterans' Expo & Job Fair?– This event is in support of our veterans (of all ages) and our military community and their families.
With nearly 200,000 men and women transitioning out of the military each year, access to information about products, services, benefits, and job opportunities is a top priority.
Capital Area


August 29, 2017 • 9 a.m. – 2 p.m.
Radisson Hotel Hbg,  1150 Camp Hill Bypass, Camp Hill
Lancaster County
November 2, 2017 • 9 a.m. – 2 p.m.
Spooky Nook Sports, 2913 Spooky Nook Drive, Manheim
Are you a Vietnam Vet? Share your Vietnam story on WITF's Vietnam Story Wall!
---
HONOR BUS TRIP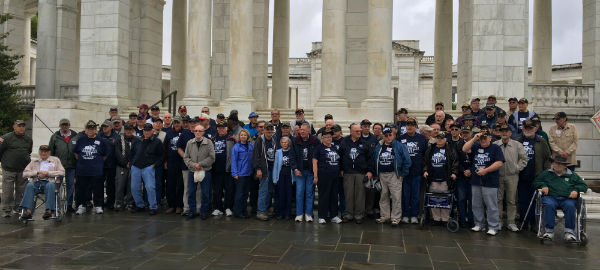 Do you know a veteran?  Join us for a special day of gratitude honoring the sacrifices veterans have made for our freedom.  Northeastern High School will host a FREE Honor Bus trip to Washington, D.C., coming this November. The trip includes visits to the Vietnam Memorial, Arlington National Cemetery and more. Space is limited.  REQUEST INFORMATION.
The Northeastern High School Honor Bus is a student-organized group that was created in 2011. The group hosts two bus trips a year, one in the fall and one in the spring, to Washington D.C. to visit the WWII, Korean, Vietnam Memorials, and the Arlington National Cemetery. We welcome all Veterans to join us on this Day of Gratitude, but especially encourage Vietnam vets to attend. All Veterans will be provided with a T-shirt, breakfast, lunch, and dinner.
Typical Schedule of the Day: 
7am: Check in (Northeastern High School Cafeteria)
7:30am: Breakfast
8:30-8:45am: Departure from School
10:30am- 3:45pm: WW2, Vietnam, Korean Memorials, Arlington National Cemetery
5:30pm: Arrival back at School
5:45pm- Dinner
*Please note that all times are estimates*
The bus trip departs from and returns to Northeastern High School in Manchester (York County).
Watch video from the April 22, 2017 Honor Bus Trip
The next HONOR BUS TRIP will be Saturday, November 18, 2017.
---
PAST EVENTS
---
RSVP to Smart Talk Road Trip to Willow Valley Communities on May 23
You're invited to join our next Smart Talk Road Trip to Willow Valley Communities for an episode about Ken Burns' landmark documentary series The Vietnam War, as well as WITF's own Vietnam War Stories project.
Guests will have the chance to:
Meet award-winning host Scott LaMar
Ask a question or make a comment during the show
Watch Smart Talk as a member of the live "studio" audience in the Cultural Gallery and Theatre at Willow Valley Communities.
RSVP now to save you space at this free event. Please arrive by 8:45 to be seated in time for the show.
Smart Talk is WITF's daily, live, interactive program featuring conversations with newsmakers and experts in a variety of fields and exploring a wide range of issues and ideas, including the economy, politics, health care, education, culture, and the environment. Smart Talk airs every weekday at 9 a.m. on WITF's 89.5 and 93.3. Occasionally they take the program out to onsite locations and go on a "Road Trip." Willow Valley is excited to be hosting the Smart Talk Road Trip program live from the Cultural Center on May 23rd.
The topic will be on the Vietnam War and will host experts on the subject covering different topics, with details to be announced closer to airdate. Don't miss this chance to be part of the live audience.
Tuesday, May 23 – 8:30 a.m.
Willow Valley Cultural Center Theater
900 Willow Valley Lakes Drive
Willow Street, PA 17584
717.464.7693
Cost: no charge
Smart Talk Road Trips are supported by Roof Advisory Group, Inc.
---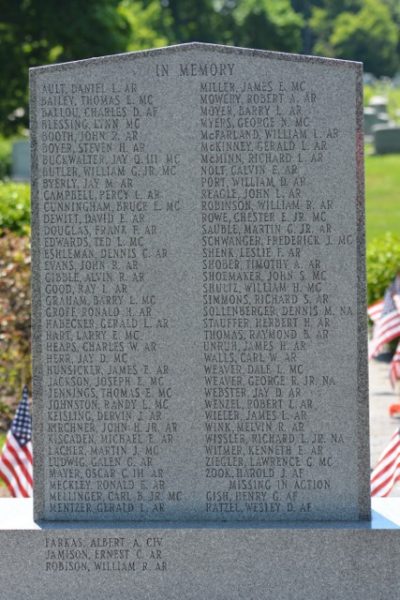 Memorial Day Ceremony at Vietnam Veteran Memorial in Greenwood Cemetery, Sunday, May 28th at 1 PM
The Vietnam Veterans of America and Associates Chapter 1008 of Lancaster PA will hold a wreath laying and ceremony on Memorial Day weekend, Sunday, May 28th at 1 PM (rain or shine) at Greenwood Cemetery (South Queen St., Lancaster 17603) at the Vietnam Veteran's Memorial.  The public is invited to attend.
The memorial, which is maintained by the chapter, was erected in the early 1980's in honor of Lancaster County's Vietnam Veterans and one civilian who gave their lives in service to our country.  The monument was rededicated last year following a renovation of the grounds.  The ceremony is open to the public.
During the ceremony, we will also be sharing memories of the soldiers and civilian honored on the memorial. (Family and friends are welcome to participate).
The chapter, which is very active in the community, meets at Oak Leaf Manor North (2901 Harrisburg Pike., Landisville PA) every third Wednesday of the month (except July and August) at 7:00 PM. All Vietnam/Vietnam Era Veterans and spouses, friends, and supporters are welcome to attend.
For more information, call Ken Ford at (717) 584-6537, or visit our website at:  www.vva-avva1008.org
The Vietnam Veterans Memorial pictured is located in Greenwood Cemetery in Lancaster. Erected in the late 1980's, it has the names of those Vietnam veterans who made the ultimate sacrifice for our country who had lived in Lancaster County.
---
---