Watch WITF's local, original production The Vietnam War: WITF Stories online.
---
Journey to Vietnam with the WITF Travel Club
Travel Dates: February 28 – March 14, 2019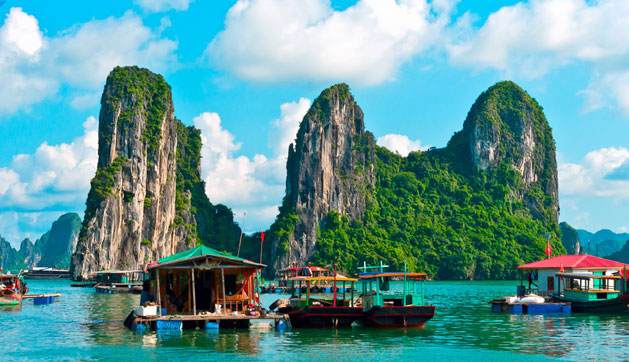 The WITF Travel Club is headed to Vietnam!
Your tour opens in historic Ho Chi Minh City, a cultural melting pot that has been the commercial hub of the region. Next, head to the Cu Chi Tunnels, a maze of underground passageways used as hideouts by the Viet Cong during the Vietnam War. Cruise along the bustling river Mekong Delta, rich with natural and historic wonders. Fly to Hanoi, Vietnam's capital. From the ancient past, through colonial rule to the modern day, this vibrant city boasts many layers of history. Take in the well-preserved traditional architecture at the Temple of Literature, Vietnam's first university, founded in the early 11th century. Learn about local culinary traditions during a cooking demonstration with a local chef. Arrive in Hoi An, an ancient merchant trading port and a UNESCO World Heritage site. Visit one of Hoi An's famous lantern workshops and try your hand at lantern making. Catch a glimpse into the Champa Kingdom at the remarkable ruins of My Son Sanctuary (UNESCO), situated in a remote jungle valley. This once thriving epicenter of religion and politics dates back to the 4th century and has more than 20 well-preserved monuments to discover.
This trip is an event organized by the WITF Travel Club.  It is not veteran-based or related to Vietnam War history. This is a guided tour offered through a partnership with AAA and Collette Travel.
Come to the Information Session,
February 27, 2018 at 5:30pm
at the WITF Public Media Center
To sign up for the information session, please call 717-910-2872
or email alyssa_broda@witf.org
Additional information at witf.org 
---
Upcoming Event
Making Peace in a Time of War: Stories from Vietnam
Former Mennonite Central Committee workers Earl and Pat Hostetter Martin will share stories from their rich network of relationships with Vietnamese friends and colleagues during the war.
Saturday, February 3 at 7:00 p.m. 
Grandview Methodist Church
888 Pleasure Rd., Lancaster, PA
Sunday, February 4, 2018 at 2:00 p.m.
Trinity Reformed United Church of Christ
450 W. Main St., Mountville, PA
(Lancaster Interchurch Peace Witness Annual Meeting)
Storytellers Earl and Pat Hostetter Martin have been deeply shaped by their years in war-torn Vietnam. For five years during that war, as Mennonite Central Committee workers, they walked daily with their Vietnamese friends who were forced from their homes in the countryside because of the fighting. Being open to working with all people, they came to realize that the enemy was not one political party or the other, but the enemy was the war itself. They developed relationships with people on all sides of the war to pursue the work of refugee assistance and address the unexploded munitions left lying in people's fields.
In recent years Pat and Earl have worked with mental health support programs and been active in immigrant and prisoner rights issues. Earl works as a carpenter doing home renovations and Pat works part time as a chaplain in the local Rockingham hospital in Harrisonburg, VA.
Warm and engaging storytellers, the couple will share stories from their rich network of relationships with Vietnamese friends and colleagues during the very difficult years of the Vietnam War.
Presentations are sponsored by the Lancaster Interchurch Peace Witness on the occasion of the 50th anniversary of the Tet Offensive during the Vietnam War.
---
If you're a Service member or Veteran in crisis, or know someone who is, confidential support is available. Caring responders are standing by 24/7.
1-800-273-8255 press 1 
Confidential chat at VeteransCrisisLine.net , or text to 838255
WITF would also like to share the helpline for the National Center for PTSD, which assists individuals seeking PTSD care for themselves or loved ones.
(877) WAR-VETS (927-8387)
---
We want your feedback!
Thank you to everyone who has taken part in WITF's The Vietnam War project!
Whether you went to one of the screenings:
Willow Valley Communities on May 23
Fort Indiantown Gap on Aug 29
US Army Heritage and Education Center on Sept 12
WITF Public Media Center on Sept 13
or submitted a story to the WITF Stories Wall , we could not have made this project what it is without your help.  Now we'd like your feedback.
PBS has asked WITF to circulate a short survey to get your comments on The Vietnam War project.  The survey doesn't require any sign up or personal information, just a few minutes of your time to click a button or two and offer your opinion.  Here is the link:
Thank you again!
Everyone at WITF
---
Join us for the next HONOR BUS TRIP 
Spring Trip 2018 – Saturday, April 28th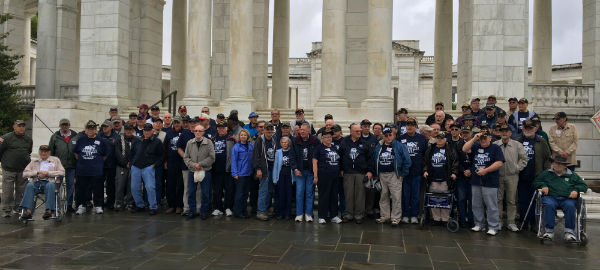 Watch "Finding Solace at the Wall" a WITF story about last year's Honor Bus Trip
Do you know a veteran?  Join us for a special day of gratitude honoring the sacrifices veterans have made for our freedom.  Northeastern High School will host a FREE Honor Bus trip to Washington, D.C., coming Spring 2018 – Saturday, April 28, 2018. The trip includes visits to the Vietnam Memorial, Arlington National Cemetery and more. Space is limited.
The Northeastern High School Honor Bus is a student-organized group that was created in 2011. The group hosts two bus trips a year, one in the fall and one in the spring, to Washington D.C. to visit the WWII, Korean, Vietnam Memorials, and the Arlington National Cemetery. We welcome all Veterans to join us on this Day of Gratitude, but especially encourage Vietnam vets to attend. All Veterans will be provided with a T-shirt, breakfast, lunch, and dinner.
Watch video from the April 2017 Honor Bus Trip
Typical Schedule of the Day: 
7am: Check in (Northeastern High School Cafeteria)
7:30am: Breakfast
8:30-8:45am: Departure from School
10:30am- 3:45pm: WW2, Vietnam, Korean Memorials, Arlington National Cemetery
5:30pm: Arrival back at School
5:45pm- Dinner
*Please note that all times are estimates*
The bus trip departs from and returns to Northeastern High School in Manchester (York County).
If you would like to join us on one of our trips please CLICK HERE, print and fill out the application!
Honor Bus Project C/O Northeastern High School 300 High Street Manchester, PA 17345
ALL APPLICATIONS SHOULD BE SUBMITTED ONLINE.
Email: swartzd@nebobcats.org
Phone: (717) 266-3644, ext. 81307
Fax: (717) 266-0616
---
Dauphin County seeks photos of four Vietnam veterans to memorialize their service and sacrifice on the Wall of Faces
HARRISBURG, PA (April 20, 2017) – Dauphin County Commissioners Jeff Haste, Mike Pries and George P. Hartwick, III and the county's Veterans Affairs office are seeking photos of four veterans from Dauphin County who were killed in action during the Vietnam War so that their legacies can be preserved on the Wall of Faces. A partnership between the state Department of Military and Veterans Affairs and the Vietnam Veterans Memorial Fund, the digital Wall of Faces features over 3,100 photos and names of service members from Pennsylvania to remember those who sacrificed all in Vietnam.
"Supporting and thanking our veterans who have fought hard for our freedom is one of our top priorities," said Pries, who has oversight of the county's Veterans Affairs office.  "We have been working with local historical societies and veterans' organizations to find photos of Vietnam veterans for the Wall of Faces and have made a lot of progress.  But we need the public's help with locating photos of four more service members to ensure ALL Vietnam veterans from Dauphin County are recognized and remembered."
Those veterans are as follows:
Carl M. Morris, of Harrisburg, whose date of birth was May 18, 1949 and served in the Marine Corps
Owen F. Neumyer, of Harrisburg, whose date of birth was Dec. 3, 1930 and served in the Marine Corps
John J. Paluscio, of Harrisburg, whose date of birth was March 23, 1944 and served in the Army
Billy A. Thompson, of Harrisburg, whose date of birth was Jan. 16, 1932 and served in the Army
County veterans affairs offices across the state have been assisting with this project and locating photos of Vietnam veterans in their communities.
"Please help us honor our hometown heroes," said Chairman Jeff Haste. "This project helps to preserve their memories and share their stories for generations to come."
Since the Wall of Faces was launched in October of 2009, the project has located photos of more than 45,000 of the names inscribed on the Washington, D.C.-based Vietnam Memorial.
"We ask for your help with honoring these veterans and ensuring their faces are never forgotten," said Hartwick.
For more information about services for veterans, please contact Dauphin County Veterans Affairs at 717-780-6356 or visit www.DauphinCounty.org. To learn more about the Wall of Faces, visit www.dmva.pa.gov.
---
---
PAST EVENTS
---
The Central Pennsylvania Vietnam Round Table presents:
Thursday, Dec. 14 at 7:30 p.m.   – DOUGLAS GRAYBILL USMC TUNNEL RAT
We meet at 7:30pm on the 2nd Thursday of each month at the Vietnam Veterans of America Michael J. Novosel Medal of Honor Capital Chapter 542, 8000 Derry Street, Harrisburg, PA.
Meetings are informal and open to the public. There are no dues, we pass the hat. Refreshments are served. Stay after the meeting and socialize.
For further information, please call 717-545-2336 or email: centralpavietnamrt@verizon.net
---
'Agent Orange Awareness Month' proclaimed by Matzie resolution
October will be "Agent Orange Awareness Month" in Pennsylvania, per a resolution from state Rep. Rob Matzie, D-Beaver/Allegheny, that gained unanimous House approval today.
Matzie said his H.R. 508 serves as a reminder that approximately 19 million gallons of Agent Orange and other herbicides were used during the Vietnam War, saddling thousands of veterans with exposure-related cancers, other health disorders and death.
"Veterans with Agent Orange-related health problems live with the knowledge that genetic damage resulting from their exposure may be handed down through generations," Matzie said. "In fact, federal law provides for the presumption that certain diseases are a direct result of exposure to Agent Orange and other herbicides used during the Vietnam War."
Matzie said approximately 498,000 men and women from Pennsylvania served during the Vietnam War era, with an estimated 172,000 of them directly participating in the war.
"At the time, this was the longest conflict in American history, and American service persons displayed heroic courage and determination under some of the most difficult circumstances ever encountered by the U.S. military," Matzie said. "Years after the conflict officially ended, many of them found out that they were also fighting a previously unseen enemy in the after-effects of Agent Orange."
Matzie said his resolution also honors those who bravely served our country in Vietnam and who may have been exposed to Agent Orange and other dangerous herbicides.
CONTACT: Paul Sunyak
House Democratic Communications Office
Phone: 717-787-7895
Email: psunyak@pahouse.net
---

Vietnam Round Table – October, 2017 Speaker
Central Pennsylvania Vietnam Round Table will meet on Thursday, October 12, 2017 at 730pm.
Vietnam Veterans of America
Michael Novosel MOH Chapter 542
8000 Derry Street,
Harrisburg, PA
Following a brief business meeting, Bill Woodworth, from Lower Paxton Township, Harrisburg, will discuss his experiences as an F4 Weapons Systems Officer from December, 1971 through December, 1972. Mr. Woolworth grew up in the Pittsburgh area and was a 1970 ROTC graduate from Capital University Columbus, Ohio. Mr. Woodworth's 20 year career also  included duty stations in New Mexico, England (3 times), North Carolina and Nevada. For service to our Country he was awarded the Vietnam Service Medal, Vietnam Cross of Gallantry, Vietnam Campaign Medal with 2 Stars, National Defense Medal, 3 Air Force Outstanding Unit Awards, each with a V Device, Presidential Unit Commendation, Air Medal with 18 Oak Leaf Clusters, and a Distinguished Flying Cross with an Oak Leaf Cluster.
Following his retirement from the Air Force, Mr. Woolworth served as a seasonal ranger at the Gettysburg and Antietam National Battlefield Parks and the Eisenhower Farm in Gettysburg.
The meetings are open to the public and, as a volunteer organization, we pass the hat. All persons interested in the history of the Vietnam War are invited to attend and thank our speaker for his service. For additional information, contact Richard Burton, 717-545-2336, email: centralpavietnamrt@verizon.net. The website is www.centralpavietnamroundtable.com.
---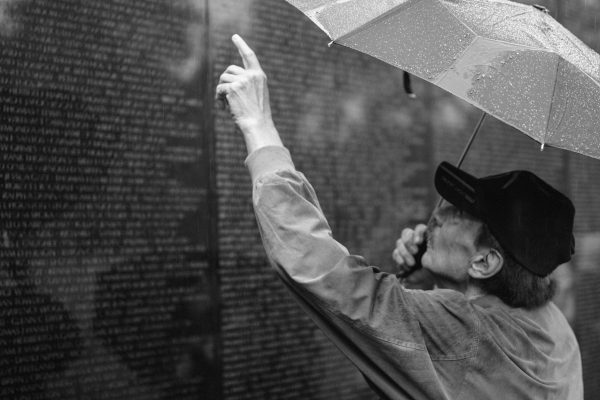 Recovering the "Sacred Ground" for All Generations
A Conversation Based on Burns and Novick's The Vietnam War

Continuing the Journey – Telling our Story
Sharing Our Experiences
Continuing Our Healing

7:00 pm, Tuesday, October 3, 2017
The U.S. Army Heritage and Education Center
950 Soldiers Drive
Carlisle, PA 17013-5021
USAHEC Information Desk: 717-245-3972
Distinguished Panel:
COL (Ret) Dr. Don Snider – three tours in Vietnam and noted author, Professor Emeritus, United States Military Academy West Point
COL (Ret) Tony Nedal – Company Commander, la Drang Valley Battle depicted in We Were Soldiers Once and Young
COL (Dr.) David Benedek – Chief of Psychiatry, Uniform Services University for the Health Sciences
LTC (Ret) Dr. Doug Johnson – Historian, two tours in Vietnam, retired faculty at the U.S. Army War College
Moderator:
Chaplain (COL) Jerry Sieg, Carlisle Barracks Installation Chaplain
Sponsored by: The USAWC Memorial Chapel, the Army Heritage Center Foundation, and Stephen Ministry
The USAHEC's events and programs include lecture series, workshops, historical demonstrations, and several special living history events. All USAHEC sponsored events are free and open to the public. For further questions about any upcoming events, please call: (717) 245-3972.
On October 3 beginning at 7:00 p.m. at the U.S. Army Heritage and Education Center in Carlisle, Pennsylvania, the Army Heritage Center Foundation, in conjunction with the U.S. Army War College Memorial Chapel and Stephen Ministry, will present a renowned panel of veterans who will share their war experiences and lessons learned from the Burns and Novick series, The Vietnam War.  The program will provide an opportunity for the audience to share and reflect on their own experience and help facilitate continued dialogue concerning the impact of war on their lives.
After the panel and discussions, COL (Retired) Neal Delasanti, Director, U.S. Department of Veterans Affairs, Cumberland County, PA, will be available for brief consultations.
The distinguished panel will include:
COL (Retired) Dr. Don Snider – Served three combat tours as an infantry officer in Vietnam, decorated for both valor and wounds. He is a distinguished faculty member of the U.S. Army War College and Professor Emeritus from the United States Military Academy. He has authored numerous publications on leadership, ethics, and the moral development of leaders. Dr. Snider retired in October 2016 after 53 years of service within the Department of Defense and continues today in adjunct status.
COL (Retired) Tony Nadal – Served two tours in Vietnam. He was engaged in heavy infantry combat in the Ia Drang Valley, the Bong Son plain, and in Kontum Province. He served as Commanding Officer of A Company, 1st Battalion, 7th Cavalry during the battle of the la Drang Valley. Harold Moore and Joseph Galloway documented the Battle of the la Drang Valley in their book We Were Soldiers Once … And Young. Prior to retirement from the military, COL Nadal served on the faculty of the U.S. Army War College.
COL David Benedek – Professor of Psychiatry and Chairman of the Uniformed Services University's Department of Psychiatry. He is also an Associate Director of the University's Center for the Study of Traumatic Stress.  He has authored or co-authored over 75 scientific publications and has presented on numerous aspects of military, disaster, and forensic psychiatry at regional, national, and international professional conferences. In addition to his operational experience in Bosnia and Croatia, Dr. Benedek has deployed to Cuba, Iraq, and Kuwait in conjunction with the Global War on Terrorism. He is co-editor of the recently published Clinical Manual for Management of PTSD.
LTC (Retired) Dr. Douglas Johnson – Served two combat tours in Vietnam as an artillery officer. He was with the Strategic Studies Institute, U.S. Army War College from 1985 until 2009. His 30 years of service in the U.S. Army included two combat tours, a variety of troop and staff assignments, and instructor duty at the U.S. Military Academy and the School of Advanced Military Studies at Fort Leavenworth. He is also a graduate of the U.S. Army Command and General Staff College and holds a diploma from the U.S. Army War College.
The evening's discussion will be moderated by Chaplain (COL) Jerry Sieg, Carlisle Barracks' Installation Chaplain.
The evening is meant to be interactive. Reflections and comments by the audience will be encouraged. Members of the panel feel that it is important for combat veterans to "tell their story". This can provide continued understanding of their war experiences as part of a healing process.
---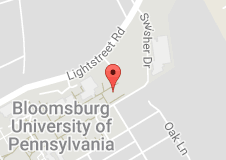 Vietnam Picture Event to be Held at Bloomsburg University – September 18, 2017
Photographs from the Vietnam War will be on display at Bloomsburg University of Pennsylvania's Andruss Library on Monday, Sept. 18. The digitized photos were donated by Mr. Blaine Cooper of Riverside, Pa., and represent his experiences before, during, and after the war. The photos will be displayed in the Schweiker Room from 10 a.m. – 2 p.m. with the main event at noon. This event will be the third and final chapter of this phase of the project.
Bob Heckrote, director of the BU Military and Veteran Resources office, spent countless hours over the past year digitizing Mr. Cooper's photos. Dr. David Fazzino, assistant professor of anthropology, with assistance from Vikram Mookerjee, graduate programs and strategic initiatives coordinator in the Zeigler College of Business, then wrote the backstory to go with each photo. The written story for each photo came after Fazzino interviewed Cooper.
These photos serve as a record of the life and times of Mr. Cooper during his time preparing for Vietnam, in Vietnam, and his return back home to his wife and newborn daughter. Cooper's wish is that the photos and stories associated with them will help BU students and young adults reflect on and appreciate life.
Blaine Cooper was drafted within one week of marriage to his wife, Joyce. He was trained in Georgia, Texas, and New Mexico, then traveled by ship from California to Vietnam. He proudly served his country and, as he described it, by sheer luck survived encounters with the Viet Cong. Upon his return home, he had to cope with the effects of Agent Orange and PTSD.
This exhibit is made possible through the work of the College of Liberal Arts, Institute of Culture and Society, and The Office of Military and Veteran Resources.
570-389-4000
---
Join Us: Special Screenings of THE VIETNAM WAR
WITF invites you to special community screenings of THE VIETNAM WAR–a landmark documentary film series by Ken Burns & Lynn Novick. Join us August 16 at the Willow Valley Cultural Center Theater, on August 29 at the Liberty USO of Fort Indiantown Gap in Annville, and on September 12 at the U.S. Army Heritage and Education Center in Carlisle. All screenings begin at 6pm and are free and open to the public.
Ken Burns and Lynn Novick's ten-part, 18-hour documentary series, THE VIETNAM WAR, tells the epic story of one of the most consequential, divisive, and controversial events in American history as it has never before been told on film. Visceral and immersive, the series explores the human dimensions of the war through revelatory testimony of nearly 80 witnesses from all sides—Americans who fought in the war and others who opposed it, as well as combatants and civilians from North and South Vietnam. The exclusive sneak preview highlights service-people, the Vietnamese perspective, media and journalism, leadership, civilian life, the anti-war movement, veterans coming home, and more.
After the screening, share your story and take part in a panel discussion with local experts.
Supported by Willow Valley Communities and the Harrisburg office of the law firm of Saul Ewing LLP.
Register to attend by choosing the location and date you prefer below:
FORT INDIANTOWN GAP | Aug 29 (Preview of Ken Burns documentary)
Fort Indiantown Gap, Liberty USO, corner of Clement Ave. and Scheld Ave., Annville, PA 17003
CLOSED – This screening has past.
US ARMY HERITAGE AND EDUCATION CENTER | Sept 12 (Preview of Ken Burns documentary)
CLOSED – This screening has past.
WITF PUBLIC MEDIA CENTER | Sept 13 (Preview of WITF Stories documentary)
WITF Public Media Center, 4801 Lindle Road, Harrisburg, PA 17111
CLOSED – This screening has past.
Send questions to: vietnam@witf.org
WITF's Vietnam War Stories Project is supported by Willow Valley Communities.
---
RSVP to Smart Talk Road Trip to Willow Valley Communities on May 23
You're invited to join our next Smart Talk Road Trip to Willow Valley Communities for an episode about Ken Burns' landmark documentary series The Vietnam War, as well as WITF's own Vietnam War Stories project.
Guests will have the chance to:
Meet award-winning host Scott LaMar
Ask a question or make a comment during the show
Watch Smart Talk as a member of the live "studio" audience in the Cultural Gallery and Theatre at Willow Valley Communities.
RSVP now to save you space at this free event. Please arrive by 8:45 to be seated in time for the show.
Smart Talk is WITF's daily, live, interactive program featuring conversations with newsmakers and experts in a variety of fields and exploring a wide range of issues and ideas, including the economy, politics, health care, education, culture, and the environment. Smart Talk airs every weekday at 9 a.m. on WITF's 89.5 and 93.3. Occasionally they take the program out to onsite locations and go on a "Road Trip." Willow Valley is excited to be hosting the Smart Talk Road Trip program live from the Cultural Center on May 23rd.
The topic will be on the Vietnam War and will host experts on the subject covering different topics, with details to be announced closer to airdate. Don't miss this chance to be part of the live audience.
Tuesday, May 23 – 8:30 a.m.
Willow Valley Cultural Center Theater
900 Willow Valley Lakes Drive
Willow Street, PA 17584
717.464.7693
Cost: no charge
Smart Talk Road Trips are supported by Roof Advisory Group, Inc.
---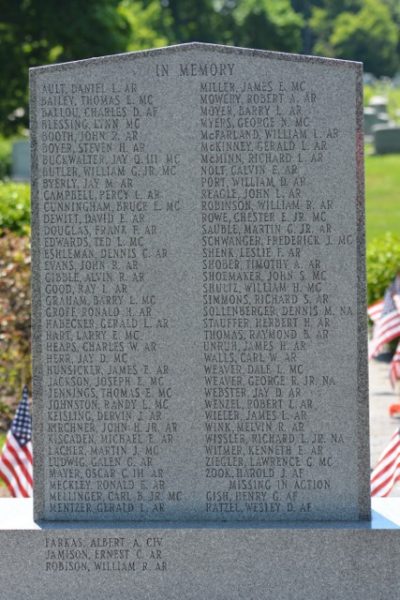 Memorial Day Ceremony at Vietnam Veteran Memorial in Greenwood Cemetery, Sunday, May 28th at 1 PM
The Vietnam Veterans of America and Associates Chapter 1008 of Lancaster PA will hold a wreath laying and ceremony on Memorial Day weekend, Sunday, May 28th at 1 PM (rain or shine) at Greenwood Cemetery (South Queen St., Lancaster 17603) at the Vietnam Veteran's Memorial.  The public is invited to attend.
The memorial, which is maintained by the chapter, was erected in the early 1980's in honor of Lancaster County's Vietnam Veterans and one civilian who gave their lives in service to our country.  The monument was rededicated last year following a renovation of the grounds.  The ceremony is open to the public.
During the ceremony, we will also be sharing memories of the soldiers and civilian honored on the memorial. (Family and friends are welcome to participate).
The chapter, which is very active in the community, meets at Oak Leaf Manor North (2901 Harrisburg Pike., Landisville PA) every third Wednesday of the month (except July and August) at 7:00 PM. All Vietnam/Vietnam Era Veterans and spouses, friends, and supporters are welcome to attend.
For more information, call Ken Ford at (717) 584-6537, or visit our website at:
The Vietnam Veterans Memorial pictured is located in Greenwood Cemetery in Lancaster. Erected in the late 1980's, it has the names of those Vietnam veterans who made the ultimate sacrifice for our country who had lived in Lancaster County.
---
---